Self-rising flour is a staple ingredient in many recipes! Learn how to make it with this quick, easy substitution recipe. It only takes 3 simple ingredients!
Have you ever started a recipe and realized that you didn't have enough of a specific ingredient called for in that recipe? It is a frustrating thing when that happens. That's when simple substitutions come to the rescue like this simple self-rising flour recipe for a homemade substitution.
If you're anything like me, you will always have extra plain flour on hand in case this situation arises. You can make self-raising flour out of plan flour, but you can't make plain flour out of self raising.
Self-rising flour is used in so many southern recipes and has become a staple ingredient in my kitchen for the perfect buttermilk biscuit, buttermilk pancakes, and cinnamon roll biscuits  and more. But, when I run low on it, I just make my own using just 3 ingredients that I always keep on hand. 
How to Make Homemade Self-Rising Flour Substitute
This homemade self-rising flour works perfectly in recipes that call for self-rising flour. I've included the recipe to make one cup of the homemade substitute, but it can easily be scaled up or down based on your specific needs.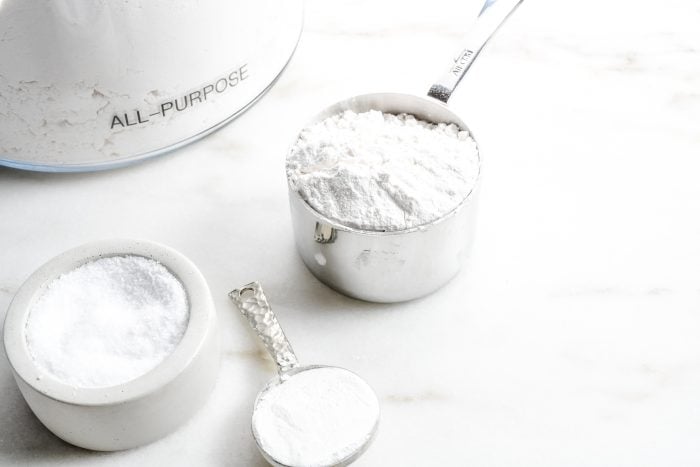 It's really simple to make and only takes about two seconds.
For each cup of flour, whisk together with 1 1/2 teaspoons of baking powder and 1/4 teaspoon of salt. Make sure to whisk all of these ingredients together well so that the baking powder and salt are both evenly distributed within the flour.
Have you got another substitute for another ingredient? Let me know in the comments below and I can share the best ones with everyone.